'Islam, Malaysia & the Wider World'
Begitulah tajuk bicara Pak Lah siang tadi di Magdalen (bacanya: 'maudlin') College Auditorium, Oxford University. Ruang auditorium agak penuh, dengan ramai juga yang tak dapat masuk. Kebanyakan lapuran akhbar harian tanahair lebih menyentuh tentang tawaran Pak Lah untuk menjadikan M'sia sebagai pusat 'conflict resolution'. Namun itu sebenarnya adalah segmen terakhir yang diucapkan; iaitu 3 tawaran Msia untuk dunia Islam.
sedang berucap
Antara kandungan utama ucapan beliau dalam menggariskan asas pembentukan kerajaan Islam yang cemerlang ialah 'good governance', 'transparency', 'promoting intellectual debate and discussion', 'ijtihad', etc. Beliau memberitahu hadirin akan langkah-langkah yang beliau ambil selepas menjadi PM, seperti pembasmian rasuah, pembentukan suruhanjaya mengkaji polis, dan lain-lain. Sememangnya ucapan ini dikhaskan untuk 'orang luar' yakni bukan rakyat Msia, kerana pada pendapat atok... tiada banyak yang belum didengar. Kalau nak baca the full text of the lecture, tentunya akan dimuatkan dalam website PM. [menurut sumber yang rapat, speech itu telah ditulis oleh Khairy; tak sempat nak tanya Khairy sendiri tadi].
Dalam sessi soal jawab antara wartawan pula, tiada banyak yang ditanya, hanya 4 soalan sahaja. 1 dari Mesir, 1 dari Syria, 1 dari Msia dan 1 dari UK.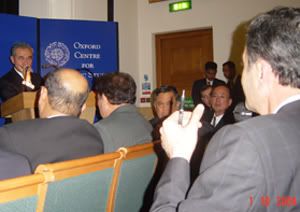 kusyuk mendengar soalan dari wartawan syria di sebelah atok
Kemudiannya Pak Lah menyaksikan upacara tandatangan MOU antara Univ Malaya dan Oxford Centre for Islamic Studies.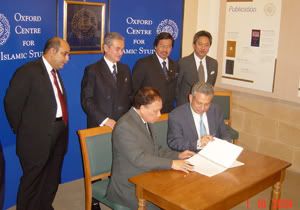 Sebelum itu, selepas solat Jumaat, atok makan tengahari di Restoren Al-Salaam bersama Sheikh Afifi, VC Univ Malaya, En. Nazir & Ustaz Rahim of MSD dan SangKlate & family.
my fingers are very itchy to write on something more explosive matter allegedly happened on the same day, but...
i won't put myself into this highly dangerous territory; coz ... it might be a blunder (on my part) as the thing was.
still waiting for someone to start the story... then, i might follow on...
conundrum: lapanwajahparamku (4 perkataan)